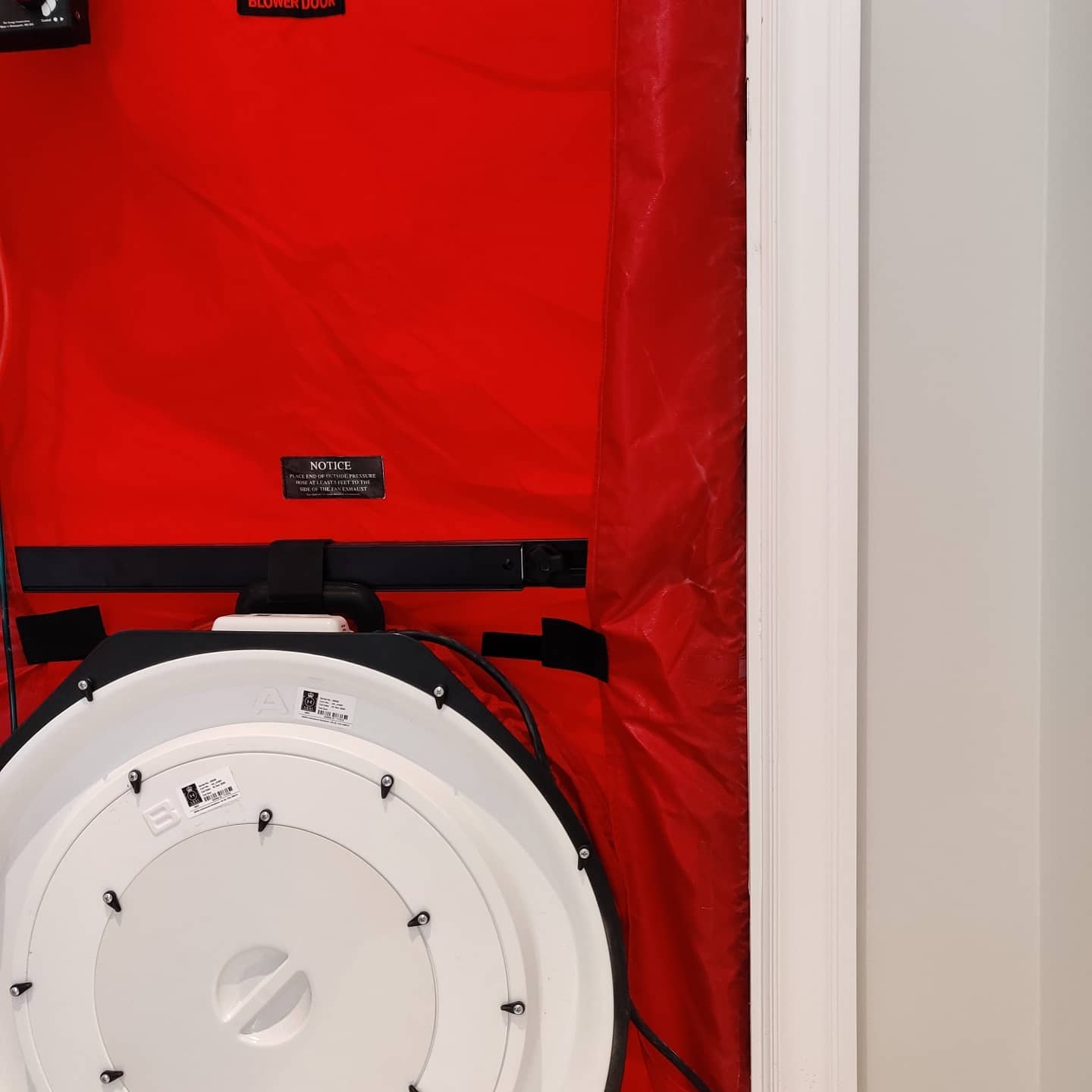 Air Tightness Testing
Building Compliance Testing Limited can provide you with a fast and cost effective ATTMA Accredited Air Tightness Testing across Mainland UK, in accordance with BS EN ISO 9972:2015 and CIBSE TM23.
Air Tightness Testing
also known as air leakage testing, air infiltration or air permeability testing, is a test required by the Building Regulations as part of an overall energy performance assessment of a building. Air leakage is calculated as cubic metres of air leakage per hour per square metre at 50 Pascals (or 4Pa for Pulse Testing). But what does this actually mean?
Air leakage can occur through gaps and cracks in the fabric of the building envelope, allowing conditioned (heated or cooled) air to escape, which consequently driving up heating/ cooling bills and contributing to potentially to carbon dioxide emissions, in the form of mains gas or non-renewable electricity sources.
Typically the test takes between twenty minutes to a couple of hours. This all depends of the size of the building, the test locations, the ability to create stable pressure in the building and unfortunately the controllable influence of the British weather.
Typically a test is carried out by a single engineer using a UKAS calibrated blower door system. The system is essentially a fan mounted within a canvas, that's installed within an external door or window, controlled by a fan speed controller, and a number of tubes connected to a multi-channel manometer, which is read and inputted into a software to generate a result.
During this time other trades can remain within the building so long as the external envelope remains closed (external doors and windows) and internal doors open.
Whether your requirements is for a domestic retrofit, residential or commercial development, to eco-build passivhaus testing, Building Compliance Testing can support you from concept to completion by offering a one-stop-service service:
design reviews – site inspections – pretesting – smoke diagnostics – site management training and education 
Other Services
– Smoke Shaft Testing for Automatic Opening Ventlation (AOV)
– Temporary Sealing in preparation for Air Tightness Testing
– Plenum and Raised Access Testing (RAF) to BG65 Standards
– Isolation Suite Testing to BTS-3 Standards
Frequently Asked Questions
What is required for an Air Tightness Test?
Floor Plans and Section Drawings
Site Address and Contact
A copy of the Design-stage SAP report for dwellings
A copy of the Design-stage BRUKL report for buildings other than dwellings i.e retail units
When do I know when I am ready for an Air Tightness Test?
We will carry out the air tightness test once the unit is past the second fix stage and the following
elements within the unit are completed:
All walls are finished, including cladding, windows and doors.
Skirting boards are fitted and sealed around
Sockets and lights are fitted and completed, in some cases caulked around (mention potty pads)
All plumbing work is completed and gaps or holes around the service pipes are sealed.
Leakage around the door frame, threshold and window boards are sealed.
What am I allowed to temporarily seal for an Air Tightness Test?
Background trickle ventialtors, passive ventilation systems and any permanently designed uncontrolled natural ventilation (such as a chimney flue). Mechanical ventilation and air conditioning systems should be turned off and isolated.
We're friendly and knowledgeable bunch so why not get in touch for a chat. You can always contact Building Compliance Testing with any questions through phone, email or our online chat service.
Don't worry, we don't charge for advice given over the phone, so why not ask for a free quote?
01621 493 594 | contact@buildingcompliancetesting.com
Let's Talk About Your Project?